Welcome to Craig-y-Don Community Tennis Club
Bringing Tennis into the Community
---
Want to Book a Court (not a member) you can here 
**********************************************************
 Pickleball   Pictures 
Did you try this on the day and would like to register an interest in a regular session at our club please contact us by email. 
If you missed this session but would still like to come along to a regular session please also email us at  info@craigydontennis.co.uk
**********************************************************
---
AMERICAN MIXED DOUBLES TOURNAMENT
A fun time had by all - pickle ball and mixed American doubles tournament, Rob and Var winners, Ian and Caroline runners up and Bee got the award  for most improved player.  Thanks a million to all who participated, great to see some past and new potential members, thanks to all who brought some goodies,  Rob and Richard for managing and sorting out the pickle ball and mixed doubles comp, all made for a very enjoyable fun sociable time.  Some comments were made about not enough notice for today and when is the next one with that in mind date for your diary Saturday 21st October same again another fun day I am happy to remind everyone and organise with some help. Mary
---
Adult Beginner   
Guests - interested in joining our club as a player or maybe a volunteer?  We would love to hear from you and will offer you a warm welcome to our club.  New members welcome.... Join Now.....
As Craig-y-Don Community Tennis Club is affiliated to the LTA, by joining the Club, you also become a British Tennis Member at no additional cost until at least the end of March 2024. The benefits of British Tennis Membership include Entry into the BTM Wimbledon ballot  Aegon British Tennis rating Discounts & pre-sales on tickets for events Monthly newsletter….to name a few.
---
NEED A MEETING ROOM? 
O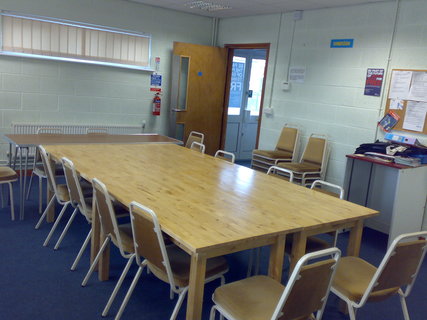 ur Meeting Room is available to let for meetings, activities etc. in the community centre if you wish to book or for more information or to see the pricing schedule tap or click the pic.
Online Membership Renewal Payments New One off single payment app.
Members - check out fixtures, results, latest news and much more. If you have any great photos for our gallery or news for our newspage then make sure you share them with us!
----------------------------------------------------------------------Members Court Booking Book now! -----------------------------------------------
Weekly Schedule 
Monday  
Childrens Coaching has now restarted 4.30pm.
Adult Beginner sessions 5:30pm 6:30pm.
6.30pm -7.30pm  Group Adult practice session for Members--- welcome taster.
---
Tuesday Adult Midweek Club Social Tennis session. Evening 6pm. 
---
Wednesday Evening Club Matches
---
Wednesday Morning 10am -12noon  Adult Club Social Tennis....come and enjoy! ..All welcome, make new tennis friends... members and also free trials for newcomers.....
---
Thursday  10am- 12 noon  Seniors Club Morning...social fun!  free  trials for newcomers.
---
Friday All courts available
4.30pm- 5.30pm Juniors age 9+ coaching with Martyn...
---
Saturday 10am -12noon Club Social Tennis ...all levels welcome
---
Sunday 2pm - 4pm  Social Tennis ...just turn up & play
---
For COACHING contact: Head Coach - Martyn Lewis
Mob: 07710950420 Email:  martynlewis59@hotmail.co.uk
MARTYN LEWIS
SENIOR NORTH WALES PERFORMANCE COACH
WELSH INTERNATIONAL
Phone 07710950420.
martynlewis59@hotmail.co.uk
 For more information you can email info@craigydontennis.co.uk
Access to facilities in our area of the Community Centre
There are no requirements to wear a mask inside the centre, toilets are available, our tennis room can now be used for social activities once again without any restrictions.
Thursday morning adult veteran sessions can be resumed with breaks for refreshments once again. 
North Wales Summer League 2023
North Wales Summer Shield 2023